Member Spotlight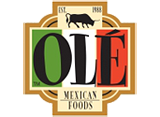 Ole Mexican Foods, Inc.
Olé Mexican Foods was established May 5, 1988 in Decatur, Georgia, a suburb to the east of Atlanta, with a small machine that produced 400 dozen tortillas per hour. Growth was so fast that by the end of the year, we moved to a larger facility in Chamblee, Georgia and added a second tortilla maker. T…
Member Locator Tool
Looking for premier, high performance foodservice sales agency companies to represent you?
Want to know which manufacturers and vendors are FSMA members and support our efforts?
Our Premier Member Locator is a free service we offer, and the number of member companies listed continues to grow rapidly.
Not all sales agencies are created equal. FSMA agency members adhere to high standards of performance, support a Code of Ethics, and invest in their success and the industry by becoming members of FSMA.
FSMA Sales Agency members listed here deliver the results you need. They provide excellent distributor and operator relationships, expert technological and information support, and highest quality sales talent.
If you are seeking highest quality foodservice representation that delivers results, look no further.
Contact Rick Abraham at 800.617.1170 for a confidential discussion of your go-to-market strategy.
Member Locator
Locate Member